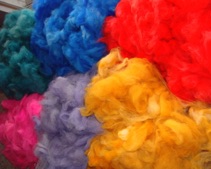 Felting Fiber
100% Homegrown Alpaca Fiber
Natural & Dyed Colors
Approx. 0.5 oz. in each bag

$1.50 per bag
Available in larger quantities. Custom colors can be created.
Contact Lesa for info.
Great for kid's crafts ...
wet felting & needle felting projects!
Fiber preparation includes 'skirting' to remove debris, washing and then picking to fluff/open fibers and is ready for your projects. Fun colors created by dying fleece after initial wash. Enjoy!













Visit the Motor-In Moscow Farmers Market to purchase our fiber and other handcrafted products online
Online store open Tuesday 9am - Thursday 9am each week through the end of October
Pick-up available every Saturday in Moscow, ID at city hall parking lot
(email us to arrange USPS shipping if needed)
Below is a sampling of our felting fiber colors!