Payment Methods
Credit or Check
All prices are in US$
Idaho residents: Add 6% sales tax
Return Policy
We want you to be happy with your purchase so if your order arrives and is not what you expected, please contact us within 2 weeks of ordering so we can make it right. If necessary we will issue a refund, excluding shipping fees, once we have received the returned item(s) in original condition.
Contact us for availability and prices of fleeces in various stages of processing:
* Raw fleeces that were bagged after shearing but not skirted or washed yet. ($25/lb.)
* Fleeces that have been washed but not picked or carded yet. ($2.50/oz.)
* Fleeces that have been washed and picked but not carded. ($3/oz.)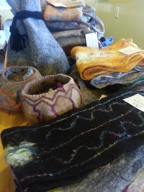 All products handcrafted from fiber grown by our alpaca herd grows. Many hours of work are invested in creating each products - a process that is all done from start to finish here at our ranch by a one-woman show (other than shearing time!).
We take pride in being a hands-on operation every step of the way from shearing our alpacas to spinning the fleeces to yarn and beyond with knitted, felted and woven items. Enjoy!
Homegrown Alpaca Fiber
Handcrafted Products
Shipping
$10
Shipped USPS Priorty within 2-5 business days after payment is received.
Please Note:
We are very remote and occassionally snowbound. During November - March, if weather does not allow for the one-hour trip to town, I will notify you with estimated ship date.


Ranch Store
Open by Appointment


Moscow Farmers Market
Moscow, ID
Saturdays
May - October
Find us at the new Motor-In Moscoiw Farmers Market!
Shop online each week (Tuesdays 9am - Thursdays 9am) Pickup items on Saturdays at city hall parking lot
We hope be back in person at the market soon!


Yarn Underground
409 S. Washington St.
Moscow, ID
If you are in Moscow, make sure to visit this Friendly yarn store! You'll find some of our handspun yarns and much more!

Visit us at the 2nd annual Grazing Hills Fiber Festival!
Come support this fun outdoor fiber festival! You'll find vendors, workshops, music, food and fiber animal at Grazing Hills Ranch in Viola, Idaho
Admission is FREE!
Saturday, July 11th, 9am - 5pm
Sunday, July 12th, 10am - 3pm