In 2012 we relocated all the alpacas and studio from western Washington to our ranch in Idaho. We live very remote (hour from nearest town) - ranch store and studio is open to visitors by appointment only.


Welcome to CountryTime Alpacas!





We started our alpaca adventure in 1998, one year after we purchased land in Idaho, and our herd has grown in quality with each breeding season providing lots of luxurious fiber that is handcrafted to produce beautiful alpaca products that are sold in our ranch store. Lesa is a fiber artist and enjoys working with the fiber from our alpacas. She shears all our alpacas every spring and then turns their fleeces into beautiful handspun yarns, weavings, felted items and other handcrafted alpaca products.
CountryTime Alpacas is located in remote north-central Idaho near Hells Canyon between the Snake and Salmon Rivers. We offer fiber processing and alpaca products handcrafted here in our studio from the fiber grown by our alpacas.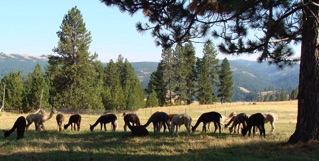 We invite you take a few minutes to view our website and see some of the handcrafted products produced in our studio from the fiber grown by our alpacas.
THANKS for visiting!
Lesa & Brad Berdoy