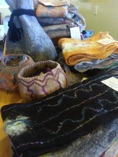 All products handcrafted from fiber grown by our alpaca herd grows. Many hours of work are invested in creating each products - a process that is all done from start to finish here at our ranch by a one-woman show (other than shearing time!).
We take pride in being a hands-on operation every step of the way from shearing our alpacas to spinning the fleeces to yarn and beyond with knitted, felted and woven items.
Homegrown Alpaca Fiber &
Handcrafted Treasures
Ranch Store
Open by Appointment
Moscow Farmers Market
Moscow, ID
Saturdays 8am-1pm
May - October
You'll find me regularly at market ...
contact me for specific Saturdays this year.
Yarn Underground
409 S. Washington St.
Moscow, ID
If you are in Moscow, make sure to visit this Friendly yarn store! You'll find some of our handspun yarns and much more!




Alpacas fiber is stronger and warmer than wool, has no lanolin and minimal guard hair. Alpacas produce 22 different natural colors, more than any other fiber-producing animal.