The Joys of Owning Alpacas
We have been raising alpacas since 1998 and enjoy the lifestyle alpacas have provided our family over the years. We love the outdoors and alpacas allow us the opportunity to be outside daily surrounded by these curious, peaceful animals. Our boys enjoy having acreage to roam and alpacas to entertain.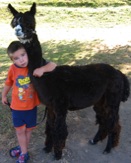 Schedule a Visit
One of the best parts about my "job" is meeting people and introducing them to alpacas! We encourage you to visit us and bring all your questions about alpacas and the business.
A typical farm tour last 2+ hours and is tailored to the individual client's experience, whether you are new to alpacas or already own alpacas. We will show you our herd of quality, show-winning alpacas and offer hands-on training as well as answer any questions.

Alpacas require very little care from us and in return give us endless enjoyment. There are many awe-inspiring momemts - the birth of a cria, watching mischievous young alpacas play by chasing each other around the pastures to see who is the fastest and many sunsets over the pastures of grazing alpacas.
We have found an enjoyable means to raise our family and as a bonus Lesa enjoys working with the soft, luxurious fiber produced from our alpacas year after year.
Alpacas for Sale
We invite you to contact us for info on current alpacas for sale. When you are ready to purchase your first alpacas or add to your herd, we hope you will look to us for assistance. We will work with you to find just the right alpaca for your breeding program or create a package to get you started in alpacas. Don't hestitate to contact us with any questions.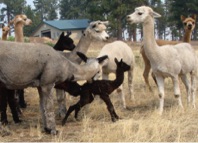 Most initial visits result in clients returning for more hands-on training with the alpacas and answers to more questions or help deciding on direction of breeding program.
We are a full-time, full-service ranch with over 14 years experience. We have encountered many things over the years and we are willing to share our knowledge to help you become successful in whatever direction you take your alpaca venture.
Our client consultations are free of charge. Contact us to schedule your visit soon!
We offer creative financing tailored to you.
We are happy to send fiber samples and additional photos upon request.
Offered with every alpaca purchase:
* 24/7 support
* Lifetime breeding discounts to CountryTime herdsires
* Discounts for multiple purchases
We also have fiber alpacas available for sale at reduced prices.
We have built wonderful friendships with many of our clients over the years and continue to offer support. We look forward to developing lasting relationships with our future alpaca friends!