*Raw fleece is carefully skirted to remove debris and sort fibers
* Fleece is washed overnight, rinsed several times and laid out to dry
* Washed fiber is picked to open (fluff) the fleece
* Fiber is run through carding machine to align fiber producing roving
* Roving is spun on spinning wheel to single yarns
* Singles may be plyed on spinning wheel to 2-ply yarns
* 2-Ply yarn is washed to set twist and then hung to dry
* All yarns are re-skeined after washing and then labeled
* Dyed yarn - fiber dyed after initial wash or yarn dyed after spun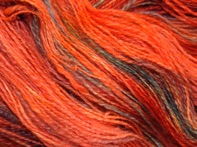 Grey
2-Ply, 12-14 wpi
(Nonee)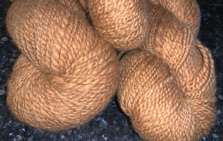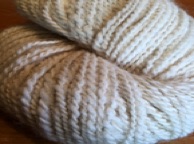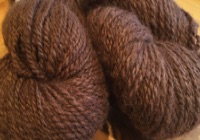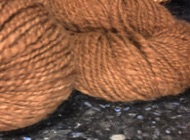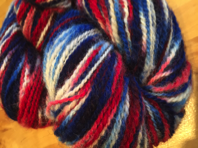 Fawn
2-Ply, 12-14 wpi
(Keilani)
White
2-Ply, 15-17 wpi
(Darius)
Med. Brown
2-Ply, 12-14 wpi
(Keilani/Boko)
Fawn
2-Ply, 12-14 wpi
(Dycer)
Red, White & Blue
2-Ply, 12-14 wpi
Black
2-Ply, 12-14 wpi
(Midnight)
Lesa's Handspun Yarns
100% Alpaca
All yarn spun from fiber grown by our alpaca herd!

Inspire your creativity ....
with some handspun alpaca!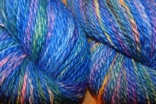 $7.00/oz. Natural Colors
$8.00/oz. Dyed Colors
Approximate yardage listed.
Skeins wound into center pull balls upon request.
Only huacaya yarn listed. Contact Lesa for info on suri handspun yarn available.
Our alpacas provide all the fiber that goes into producing our handspun yarns. The process is all done by hand by Lesa from shearing to finished yarn and each fleece is processed individually with great care to ensure the highest quality yarn.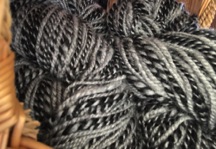 Black/Grey
2-Ply, 9-11 wpi
(Gypsy/Keno)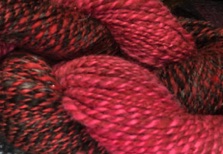 Red/Pink/Black
2-Ply, 10-12 wpi
(2 Skeins)
Red/Black 125 yds
Red/Pink 93 yds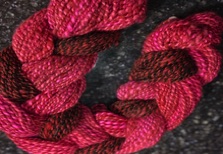 Red/Pink-Pink/Black
2-Ply, 10-12 wpi
(3 Skeins)
Red/Black 70 yds
Red/Pink 100 yds
Red/Pink 100 yds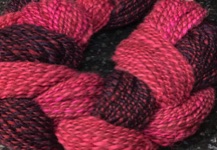 Red/Pink-Pink/Purple
2-Ply, 10-12 wpi
(3 Skeins)
Red/Purple 100 yds
Red/Pink 100 yds
Red/Pink 68 yds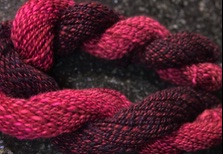 Red/Pink-Pink/Purple
2-Ply, 10-12 wpi
(2 Skeins)
Red/Purple 67 yds
Red/Pink 100 yds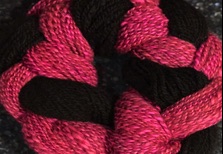 Black/Red/Pink-Pink
2-Ply, 10-12 wpi
(3 Skeins)
Black 103 yds
Red/Pink 100 yds
Red/Pink 83 yds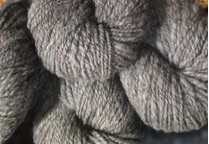 Dark Brown/Fawn
2-Ply, 12-14 wpi
(Keilani/Louella)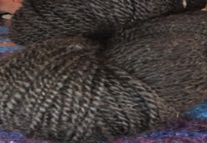 Black
2-Ply, 12-14 wpi
(Trixie)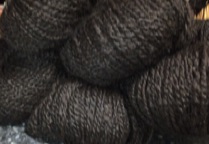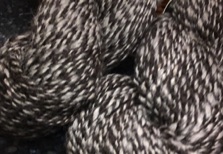 Black/Grey
2-Ply, 12-14 wpi
(Nonee/Midnight)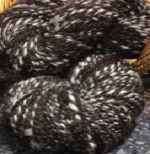 Black/White
2-Ply, 12-14 wpi
(Sabella/Darius)

Brown/White
2-Ply, 12-14 wpi
(Louella/Darius)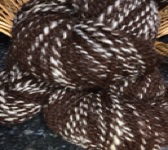 Beige
2-Ply, 9-11 wpi
(Maybelle)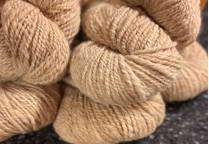 Black/Purple/Turquoise
Spiral 2-Ply, 9-11 wpi
(Natasha & Zyna)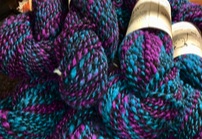 Grey
2-Ply, 9-11 wpi
(Chief Sitka)




SunBurst
2-Ply, 12-14 wpi
(Orange/Green)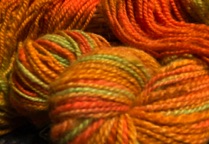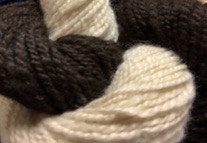 Black/White
2-Ply, 9-11 wpi
(2 Skeins)
White (Neena) 100 yds
Black (Sabella) 67 yds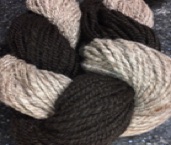 Black/Rose Grey
2-Ply, 9-11 wpi
(2 Skeins)
Rose Grey (Exum) 93 yds
Black (Sabella) 98 yd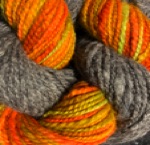 Grey/Multi Orange/Green
2-Ply, 12-14 wpi
(2 Skeins)
Grey (Nonee) 112 yds
Multi Orange/Green 103 yds